The mission of the Hairy Houdini Siberian Husky Rescue is to help Siberian Huskies and Husky mixes in need, and educate about the proper care of the breed. Learn more and get involved.
We are a foster home based rescue organization serving Michigan. Once the dogs are in our care, we update their veterinary care including spay/neuter, they are microchipped, temperament tested, and monitored and cared for by a volunteer in our wonderful foster program. Once we have matched the personality of the dog with the perfect home, they get adopted! Application, reference check, home visit, contract and adoption donation apply.
---
Please see our adoption information section under the main menu for more details on adoption. To fill out an adoption application click here.
---
If you are seeking placement for a dog currently under your care please complete the request to surrender form. Submitting this form does not guarantee that we will be able to accept your dog. We are severely limited by the number of fosters we have available at any given time.
---
If you are wanting to help by opening your home as a foster pet-parent please see our foster information section for more information and to apply to foster a husky click here.
Events
Fundraisers and events help us raise awareness and generate crucial resources to serve our community. Join us at our next event and see how you can get involved.
Find out more.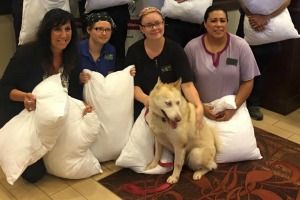 Become A Foster Home
Foster a dog, save a life!
A foster is the most important part of each rescue.
Fosters are the backbone of our rescue, without them we couldn't help the huskies in need.
News & Notes
As we dive into the season of giving this month, let's explore how the very action of giving can lead to a more altruistic life, improve our mood and even makes us happy.
Singing with others has numerous health benefits for your body and mind. Here are a few ways to be healthier and happier with music in your life.
Gratitude is about more than taking a second to say "Thanks." Gratitude shows true appreciation. This Thanksgiving, we have some ideas for how you can give gratitude.
View the Archives